HNP Mikrosysteme
Micro Annular Gear Pumps

Due to careful material selection and advanced microtechnology design as well as high manufacturing precision micro annular gear pumps open a new dimension in pump technology.
Four series of rotary positive displacement pumps allow precise and nearly pulsation-free dispensing of smallest quantities of liquids. The dosage volumes cover the sub-micro litre to litre range for both nonlubricating and highly viscous liquids.
HNP Mikrosysteme offers also comprehensive micro-dosing systems. The most significant characteristics of the pumps are their small dimensions, high operating lives as well as high dosage precision even for the smallest amounts of non-lubricating liquids. Thanks to DC drives and comfortable control the pumps offer high functionality and are easy to operate.

The High Performance as well as the Hermetic and Chemically Inert mzr® Pump Series are employed in application fields such as chemical process technology, assembly as well as dosage and filling techniques. The Low Pressure Pump Series corresponds to the requirements of instrumental analytics, fuel cells and OEM applications as far as dosage of low viscosity liquids is concerned.
The Modular Series allows customized material selection for each component of the pump depending on chemical compatibility with the manipulated liquid.
High dosage precision
Precision CV <1% at low volumes
Minimum dosage volume
0.25µl
Low flow rates
1,5µl/min to 1152ml/min
High differential pressures
Achievable even for low viscosity liquids
Long service life
wear resistant tungsten carbide and ceramics
Broad viscosity range
0.3 to 1,000,000mpas, solvents, water, adhesives, paints, grease, gel
Pulseless delivery, low shear stress
Achieved by rotary micro annular gear technology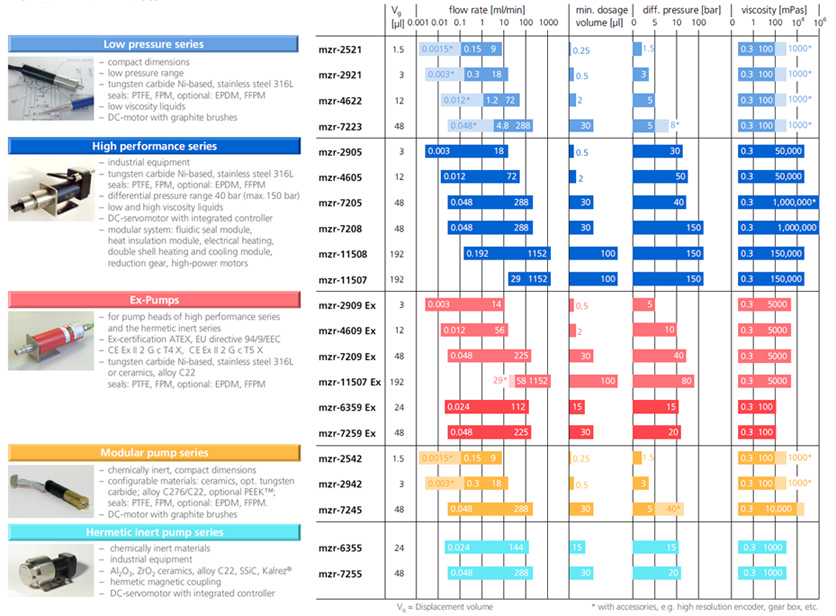 Website: www.hnp-mikrosysteme.de
PDF Brochure