March Manufacturing
Magnetic Drive Centrifugal Pumps

March specialises in a wide range of precise, highly reliable magnetic drive centrifugal pumps.
March pumps are designed for virtually any application, from aquariums and icemakers, to chemical and processing equipment, to one-of-a-kind special applications such as the United States space shuttle program. These include pumps for handling a virtually unlimited array of fluids from water to highly corrosive or acidic solutions, as well as high temperature liquids. Various designs range from aircooled to fully submersible electric-powered unit motors to air motor-driven models for certain environments.

Whether it's a special pump design for an OEM application, or for a unique industrial process, March is your product for reliable, efficient solutions to difficult
pumping problems.
We have selected a few models from their large range and detailled them below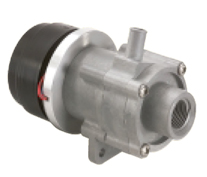 March 893 series
Polypropylene construction (other materials available on request)
Brush and brushless DC motor options
Submersible and open air models available
Compact design
Flows to 11l/min and 3.3 metres head
Temperature rating: 87°C polypropylene, 121°C for polysulfil constructed pumps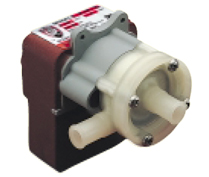 March 1 Series
Polypropylene construction (other materials available on request)
230 and 115VAC 50/60Hz motor
Submersible and open air models available
Ideal for circulation systems
Flows to 9l/min and 1 metre head
Temperature rating: 87°C polypropylene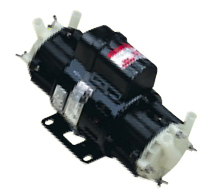 March 802 Series
Dual head pump, single motor
Polypropylene, Kynar, and Ryton material options
Smooth, quiet operation
Flows to 26l/min and 3.9 metres head
Temperature rating: 87°C polypropyelne, other materials may go higher
Website: www.marchpump.com
PDF Brochure (US Version)